The Queens General Hospital is fortunate to have dedicated medical professionals who are committed to the health of those in Queens County. One such professional is Dr. Ryan Burrill. Dr. Burrill, who grew up in Shelburne, always enjoyed helping people. Little did he know that his educational journey would take him around the world before returning back to his home province.
"After graduating with my Bachelor of Science from St. Francis Xavier University, I left Nova Scotia to obtain my medical degree at SABA University in the Caribbean," said Dr. Burrill. "I then did my residency at Louisiana State University before moving back to Nova Scotia so I could live and practice medicine in my home province."
Dr. Burrill and his wife, Dr. Amy MacMullin, both practice medicine in Queens County. In the two and a half years Dr. Burrill has spent at the QGH, he's had the pleasure of witnessing first- hand the many ways in which the Queens General Hospital Foundation improves the health of Queens County residents.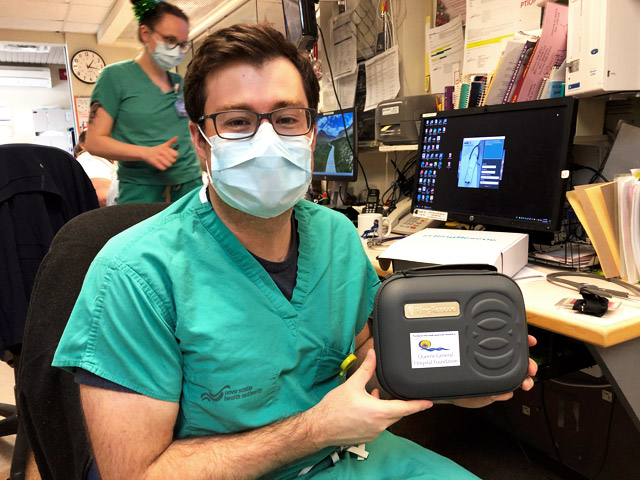 "The Foundation has improved the hospital in almost every aspect I can think of. If there is something the hospital needs, the Foundation helps us obtain it – like the Ring Rescue device," says Dr. Burrill.
Dr. Burrill explains that the Ring Rescue device purchased by the Foundation in the fall of 2020 helps remove rings, such as wedding bands, from patients' swollen fingers without damaging the band. The Emergency Room staff use the device on about 3-5 people a month.
"Rings carry such significant sentimental value to so many people, having this device at our disposal means that we can provide our patients with the care they need while keeping their prized possessions intact."
When Dr. Burrill and his wife aren't helping the people of Queens County, they spend their time cycling, hiking, and enjoying life in the community. Dr. Burrill and Dr. MacMullin would both like to thank the residents of Queens County for welcoming them into this wonderful community.