Through unwavering support and care, the community of Liverpool left an indelible mark on Tim and Diane Ledvina.
Tim Ledvina was born and raised in Cleveland, Ohio. He received a Bachelor of Science in Mechanical Engineering from the Ohio State University and began work in the auto industry as an engineer with Morse Chain, part of Borg Warner. He retired from his position as Chief Engineer for Morse Chain as an expert in his field after 30 years, with over 30 patents to his credit.
Diane Ledvina was born in Salamanca, New York, where she attended Cornell University, earning a Bachelor of Science in Animal Science. She spent time in Alaska as a lab technician, and later returned to Ithaca, New York, where she had a 30-year career with Dairy One, was president of the local Farm Bureau chapter, and treasurer of the Holstein Club. It was in New York where Tim and Diane met.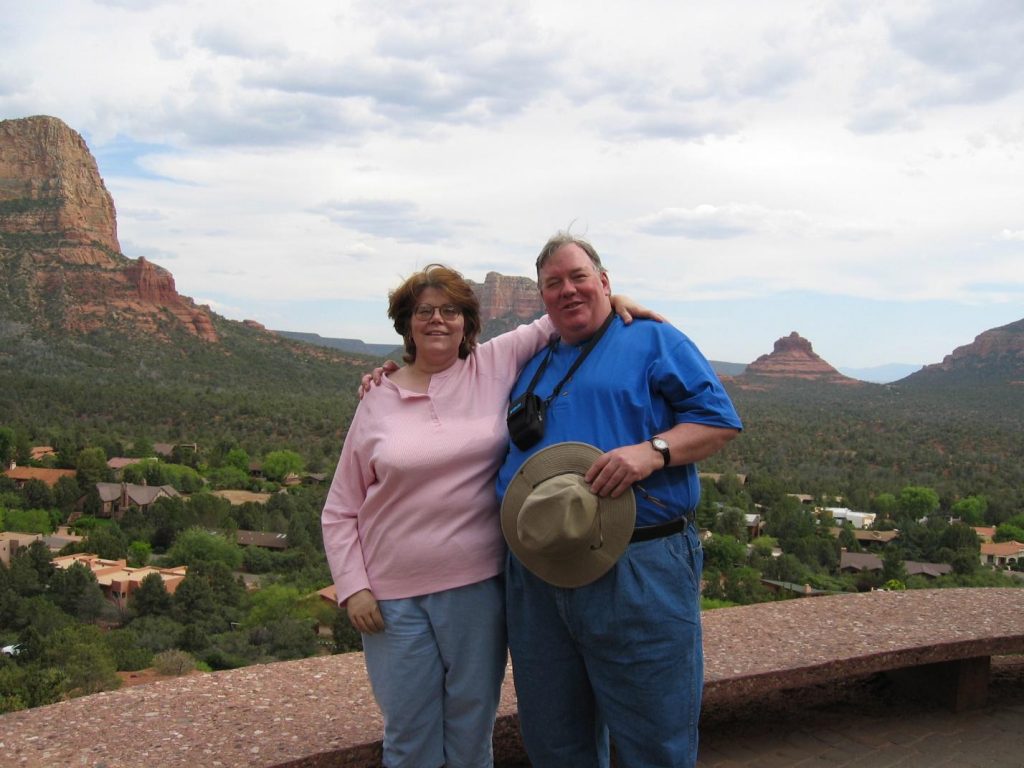 "Tim and Diane… they really were drawn to one another" Tom, his twin brother recalls, "These are people who really overcame some difficulties." Tim suffered from cataracts early in his life, at a time when surgery for cataracts was only just being developed. Despite the surgery, Tim had severe vision issues throughout his life. Early in Diane's life, she suffered a farming accident where she lost most of her right arm. "You had two people, who both faced great physical challenges, and I think that drew them together." adds Tom.
During their careers, Tim and Diane would often travel for vacation. On one such vacation, they travelled to Nova Scotia, and driving down the coast, they came upon Liverpool, and they fell in love with it. The rest is history. In 2005, they bought a plot of land near the ocean, and began construction on their home. They integrated into the community immediately. Both were parishioners at St. Gregory's Church. They loved animals, raising miniature donkeys and other animals in New York, and were always the place for a rescue dog. In Liverpool, they worked with the SPCA. Tim was part of the Kiwanis, and Diane volunteered for Queens General Hospital, the Queens Food Bank and Thomas Raddall Library, up until her illness.
It was discovered, during a routine health check as part of the immigration process of moving to Canada, that Diane had cancer. "The support that Tim and Diane felt in the following years was beyond what they could have expected; that's pretty extraordinary in my mind." says Tom, "It shows how they really became part of the community." After a long battle, Diane passed in March of 2012, and written condolences poured in from the community and anywhere Diane had spent time, from roommates at university, to neighbours down the road.
"I was really worried when I went up there after Diane died," Tom explains. "I worried Tim would be alone, but I quickly found that was not the case. He had so many friends, and the community was so supporting," Tom remembers. "I knew he was going to do fine."
Tim continued to take part in the community until he became ill in December of 2014. Once again, support poured in from the Liverpool community and the local area. He was happy to be in Liverpool. Tim passed the following March, but not before making the decision to give back to the community that had given him and Diane so much.
"It was important to Tim to make a contribution. He could see how important the hospital was to the local community. So that's what motivated the gift," says Tom. Tim was so grateful for the level of care Diane received at Queens General Hospital, "He wanted to preserve that access to good, quality, local healthcare."
Tim and Diane donated $4.8 million to Queens General Hospital Foundation, the largest single private donation the foundation has ever received. Knowing that the foundation would put the money to the best use, Tim left no instructions on how the donation was to be used, only that it be used to benefit those in the Liverpool community to its fullest extent. The building that will display their name to honour their generous donation has a history of healthcare, as the former location of a family practice. The property is also large enough, should further development be required. This facility will be used to continue and enhance the level of care and support that Tim and Diane appreciated during their time in Liverpool.